We had two weeks in a row of beach-themed activities. The first was Sink and Float, which included discussion about boats, and some activities with seashells that might wash up on a beach. This week, we went "Under the Sea" and talked some about coral reefs, fish, scuba divers, and submarines. (Learn about our submarine activities.)
Art Projects about Oceans and Fish
Cardboard Aquarium
This year, we'll be building an aquarium, which will look something like this (from bestideasforkids)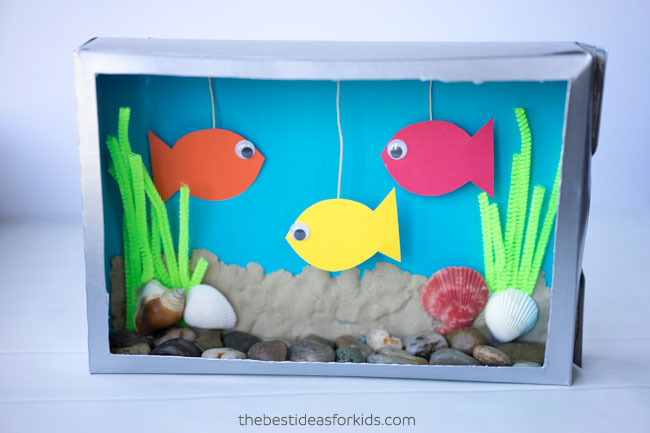 This project is a 3 step process.
Decorate a fish
I searched online for "fish coloring pages" and shrunk images down to a good size, then printed several for kids to cut out and color in with glitter gel pens.
Watercolor resist backdrop
The kids will use oil pastels to draw plants and fish tank decor. Then they'll paint over it with diluted blue liquid watercolor. We like to dissolve Epsom salts in warm water before mixing in the color. When the paint dries, you can see the sparkle of the salt. (See examples in my States of Matter post, or below.)
Cereal box aquarium
They will cut the front off a cereal box, then stand it up on one side to look like an aquarium. They'll glue in the backdrop they made. They'll glue aquarium gravel and some shells along the bottom of the "tank" – this looks pretty, but also helps the box stand up. They'll tape fishing line onto the fish. Then punch holes in the top of the aquarium, thread the fishing wire through the holes, and tie the wire to a button or big bead so it can't slip back through the hole. Then they can grab hold of the button and pull up to raise the fish or lower the fish back down. This photo from madebyjoel illustrates this mechanism.
Playdough Sculpting
The illustrations in the book Over in the Ocean are photographs of amazing Sculpy art by Jeanette Canyon. We put the book, samples of the art, white play-dough and blue play-dough on the table and encouraged the children (and parents) to try to recreate Canyon's style.
Fingerprint Fish
I put out blue paper, ink pads for rubber stamps, and markers. Kids could make fingerprints, then turn them into fish by decorating with markers. I used a picture from https://www.etsy.com/listing/13261893/underwater-card as inspiration.
Watercolor Resist Fish
We put out white paper, oil pastels, and paint brushes. We mixed liquid watercolor, warm water, and Epsom salt to make a diluted blue paint, with some sparkly-ness. Kids could draw fish with the pastels, then paint over with the blue "water."
Paint Waves. Add fish.
At the easel, we had blue, green, and blue glitter paint. We encouraged kids to paint water. Then we had paper fish cut out and jewels to glue on to make a sea scape.
Sea Shell Activities
Sea-Shell Impressions
We used Model Magic air drying clay (see this post to learn more) and a collection of small scalloped sea shells. Kids made a small ball of clay, then pressed the shell into it to make an impression. (We also did a similar activity during dinosaur week to make "fossils.")
Shell observation and sorting
We put out a wide variety of shells to explore, plus magnifying glasses for a close look. Kids were encouraged to sort them, looking for commonalities and differences between the various shells. On the table, we had the book Seashells by the Seashore. (Read about it here with our Books about the Beach)
Math skills
Fish match and sort
I made cards with pictures of fish / sea life on them. (Two of each) Kids can sort into categories, or find the matching fish. (You could put paper clips on them and "fish" with magnet poles to catch them.)
Observation/math
I used artwork www.meddybemps.com/deepblue/thereef.html to create a mural of a coral reef. Then I used this field guide to make counting sheets so they can tally how many of each fish they see. www.meddybemps.com/deepblue/fieldguide.html
Imaginary Play
Climb Aboard an Imaginary Ship: With an umbrella stand, a pole and dowel, and some fabric, we made a boat with a sail. We used blue fabric and a sea-life rug for the ocean. We added sea-life puppets, fishing poles (dowels with magnet wands tied on) and fish shapes and paper clips on them to catch.
Free Play Activities
Puzzles and Manipulatives: We used sea life related items from class supplies.
Sensory Table and Water Table Ideas
We've done rock salt with shells mixed in and sand with shells or "treasure" mixed in. We've filled the water table with plastic fish and fish nets.
Game
Somethin' Fishy was a card game from Simply Fun. I can't find it on their website, so it may be out of print, which is a shame, because it's a great game for 4 – 6 year olds. You could make your own… here's how it works: The cards have a picture of a fish on them. There are four species of fish. In each species there are big fish, little fish, and hungry fish. You draw a card and start a line of fish in front of you. Then draw again. If that card matches the last fish in your line (same color or size) you add it to the line and you continue your turn or, if you have more than three cards in your line, you can choose to collect your cards (i.e. pick up all the cards in your line, set them aside to score later.) If it's a different color or size, hand it to the person on your left and your turn ends. If it's a hungry fish… if it is the same species as the last fish in your line, your turn ends, but otherwise you're safe. Hungry fish don't eat their own species. But, if it's a different species than the end of your line, it eats all the fish in your line till it gets to one of its own species. Your turn ends. At the end of the game, you count cards in your score pile.
Outside Play – Beachcombing: Print paper seashells and items to find on a beach. (I used these: www.first-school.ws/t/apshellsc.htm.) Scatter them outside in sand play area.
Circle Time
Gathering: A Sailor went to sea sea sea clapping game. (clap right, clap left, clap both hands three times, and so on.) Here's a tutorial: www.youtube.com/watch?v=sr8P2wt7d7Y, and here are kids doing it full speed: www.youtube.com/watch?v=7NEwPQUFHcc
If all your students were 6 or 7, you could probably just teach this as it is. But our kids range in age from barely 3 to almost 8, so here's how we did it: First, two adults demo it. Then pair up one grown-up with each kid. Level one – the child puts their hands up in front of them palms out and just holds them there. The adult claps against their upheld hands. If they master that, then on to level two – the adult holds their hands still and the kid claps against them. Then for those who can – on to level three, where both clap simultaneously. Level 4 – speed that up!
This game teaches rhythm, hand-eye coordination, singing and moving at the same time, and teamwork.
Song: Over in the Ocean – read the book (see below) and sing the song. Other options are: All the Fish are swimming in the water (www.youtube.com/watch?v=60RRRq4dJ58 or http://kcls.org/content/all-the-fish-are-swimming/) or Slippery Fish (www.youtube.com/watch?v=YkQeX2nBH3Y and hand motions here: www.youtube.com/watch?v=0C9HSOlb4qI)
Music: Hand out shakers, or scarves, or sea life puppets and dance to Under the Sea from Little Mermaid or Yellow Submarine by the Beatles.
Book recommendations: Don't miss my post on recommended books about the ocean and fish, especially Over in the Ocean. Also check out this post on books about the beach