A common science lesson for young kids is the life cycle of the butterfly. There are stories and songs about it (you can find them in my Bug post) and it has inspired tons of crafts ideas. Here are just a few ideas:
Pom Pom caterpillars
Glue pompoms to a craft stick (or a clothespin). Add on googly eyes, or draw eyes, then twist on pipe cleaner antennas. (Instead of pompoms, you can also use glittery "jewels" or foam shapes.)
After your child completes this craft, you could choose to add butterfly wings, then the "caterpillar" becomes the body of the butterfly. You can just draw a butterfly, use a coffee filter butterfly from our Rainbows theme, use melted crayon and wax paper, or watercolors and black glue like I Heart Crafty Things did, or try one of the ideas below.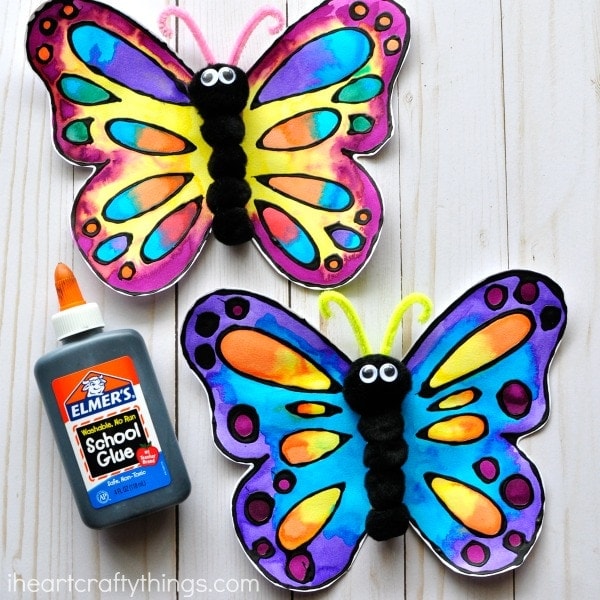 A Rorschach Butterfly
Cut out paper butterfly shapes. Fold them in half. Have kids paint on one half, then fold it in half, press together to transfer paint and open it up again to reveal the symmetry of the two sides.

Fold Out Butterfly
This craft starts with a pom pom caterpillar. Then you tape on craft sticks for wings they can fold up.
For the one of the left, the idea came from Danielle's Place, where she has a great description of the steps for making it. The wings accordion fold into a tidy stack you can hide under the caterpillar – you have to be fairly precise to get the fold to work well. We only suggested this one to our oldest kids (age 6 and 7). My co-teacher made this sample at home, where she only had blue masking tape. She used oil pastels to cover that with the drawing. Beige or white tape would work better.
The one on the right is a simplified version. Just lay out two long strips of tape sticky side up, lay the caterpillar in the center, and space out craft sticks along the rest of the tape. Then add tape to the tops to seal the wings together. Then you can roll the wings up around the butterfly as shown here, and you can tuck the butterfly into a toilet paper roll "cocoon".
Life Cycle using those elements
We usually do process oriented art, but we do the occasional product activity. For this one, there were multiple steps:
Cut out a green leaf. Add glue and some rice or beans to be the eggs.
Make a pompom caterpillar.
Then cut out more green leaves, punch holes in them to be a chewed up leaf. Glue all your leaves on the paper. Set the caterpillar on the leaf, but don't glue him down.
Tape on a toilet paper tube to be the cocoon. (Or if you're ambitious, make a paper mache or decoupage cocoon.)
Make a Rorschach butterfly (or other wings)
Glue the wings on the paper, just gluing the center so the wings can "flap".
(My five year old liked playing with this project interactively – he'd make the caterpillar nibble the leaves, then climb into the cocoon, then the caterpillar would come out and be the center of the butterfly, flapping its wings.)
A Butterfly Puppet with Lift the Flaps
Created by my co-teacher, Monisha. Cut out a butterfly shape. Color it, then attach it to craft sticks. Then cut folded circles of paper. Draw the stages of the life cycle on the bottom layer of each circle. Then glue them onto the butterfly, and decorate the top layer to fit in with the butterfly's markings.
Pasta Life Cycle
An alternative butterfly life cycle is to use pasta for the stages: orzo or acine di pepe (or white beans) for the egg, rotini or penne for the caterpillar, conchiglie (shell pasta) for the chrysalis, and bowtie for the butterfly. You could also use these shapes to make a fun lunch.
More Ideas
A flextangle lifecycle to print and fold, from EasyPeasy.
A 3-D model you can print and fold, from EasyPeasy.
Tissue paper and pompoms on a paper plate from Homeschool Preschool or Buggy and Buddy. A hanging life cycle mobile from Spell Out Loud. A collage. A play-dough life-cycle from View from a Stepstool. Another collage. A fold-out butterfly, found on Instagram.
Science Note:
It's worth noting that all insects have multi-stage life cycles and go through metamorphoses, but somehow there aren't a lot of crafts inspired by the life cycle of the cockroach or of the mealworm / darkling beetle.
However, if you want to do experiments, it's easy to get some mealworms at a pet store (they're sold as reptile food). If you keep them for long enough, they'll turn into darkling beetles. (Put a slice of raw potato in their container they can eat and get water from.) Or, you could get a ladybug kit and watch them go through those life cycles.
And if you want more bug-themed craft ideas, check out my Bug Factory post.