When we studied habitats, we created habitat dioramas. When we study ocean life, we make a cardboard aquarium, which looks something like this (from bestideasforkids)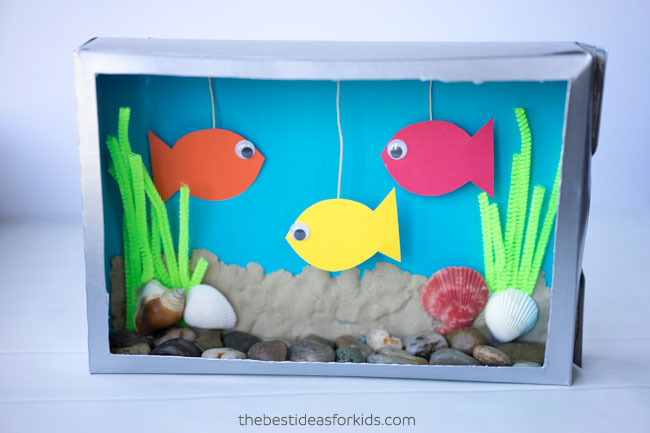 This project is a 5 step process. It's not something a child under 7 or 8 could do on their own but it's a great collaborative parent-child project.
Choose and prepare your box
You can use a shoebox without a lid, or you can cut the front off a cereal box or other box, then stand it up on one side to look like an aquarium. If you have a larger, sturdy box, you could cut some portholes in the ends, like Molly Moo did. You may choose to paint the outside of the box, or wrap it with paper for a nicer final product.
Add the "floor"
Glue aquarium gravel and some shells along the bottom of the "tank" – this looks pretty, but also helps the box stand up and not tip over. Puffy paint, or styrofoam "coral" could make a fun floor, but you'd need to incorporate a few rocks for the weight.
Make your backdrop
Decorate a piece of paper to be the back of the tank. One method is to use oil pastels to draw plants and fish tank decor. Then dissolve Epsom salts in warm water, and mix with blue liquid watercolor (or food coloring.) When the paint dries, you can see the sparkle of the salt. (You could use glitter, but for environmental reasons, we prefer not to.)
You could also do a collage of blue and green tissue paper squares, or tear strips of blue and green paper to glue down, or use plain blue paper and cut out green plants to glue on it. Or you can make plants from pipe cleaners, like this Instructables. However you decide to do it!
Glue or tape the paper into the box.
Make your fish
You could search online for "fish coloring pages", shrink images down to a good size, print and color in with glitter gel pens. Or you can cut fish out of shiny origami paper. Or paint styrofoam balls or egg shapes and add fins and tails. Or you could use toy fish, like Jamonkey did.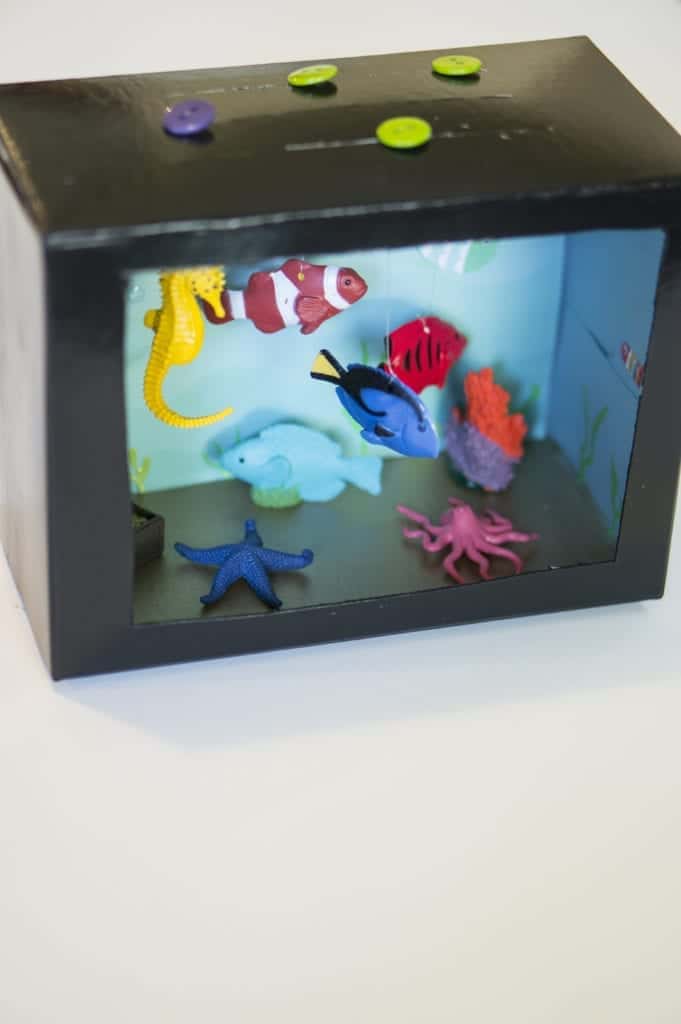 Assemble your aquarium
Tape fishing line (or thread or dental floss) onto the fish. Then punch holes or slots in the top of the aquarium, thread the fishing wire through the holes, and tie the wire to a button or big bead so it can't slip back through the hole. Then they can grab hold of the button and pull up to raise the fish or lower the fish back down. This photo from madebyjoel illustrates this mechanism.
You could also cut long slits in the top, so they can slide the fish up and down the track to move it through the tank, like Molly Moo did. You might need to reinforce the cardboard.
Optional: some people cover the front of their aquariums with clear plastic or saran wrap stretched tight to mimic the glass, like Aspiration Crafts did.
Teacher Monisha's Diorama
Here is a step-by-step tutorial for one project:
Cut the center out of one paper plate. (Adult job.)
Cover the opening with clear plastic wrap. Tape.
Paint the other plate. Blue for water, brown for ground.
Glue a layer of sand or gravel on the bottom.
Gather an egg carton or plastic lids.
Make fish with the lids, paper, paint and googly eyes.
Make sea plants with pipe cleaners.
Decorate the aquarium with fish, plants, shells.
Finish it off with the frame of plastic wrap.
Teacher Cymbric's Diorama
Here are the steps as illustrated by my co-teacher Cymbric when she made a fabric covered box: she cut the front off the box, cut slits in the top of the box. Covered the box with fabric. Covered sticks with fabric and decorated them. And the final product.
Enjoy this fun collaborative project with your child!